LAMB KNITTING MACHINE CORPORATION
Home of the LT150
The LT150 is in a class of its own as it is the only CSKM in production that features a cone-shaped ribber and a dual feed cam system.  The cone-shaped ribber places the ribbing needles at a 45-degree angle with the cylinder needles, providing a natural knitting motion for the formation of ribbed stitches.  Manufactured in Chicopee, MA USA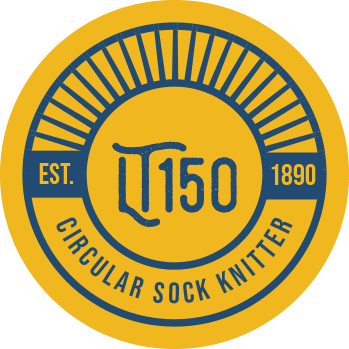 Circular Sock Knitting Machine for Fiber Artists
The LT-150 is a hand operated Circular Sock Knitting Machine (CSKM) designed for home use.  This machine knits small garments such as socks, scarves, boot cuffs, and mittens.
Online support and instructional videos
Learning how to knit on a CSKM can be frustrating at first.  With this in mind, LAMB provides online support through our YouTube Channel as well as virtual meetings scheduled by request.  We are here to help our customers become comfortable using their LT-150 for lasting enjoyment.
LAMB's Model LT150 is a modern generation of the original TUTTLE Circular Sock Knitting Machine (CSKM), designed by Dr. Calvin Tuttle.  LAMB Knitting Machine Corporation produced the Tuttle machine between the 1890s and 1920s. In commemoration of our 150th anniversary, LAMB proudly offers this machine to home knitters, educators and hobbyists once again.